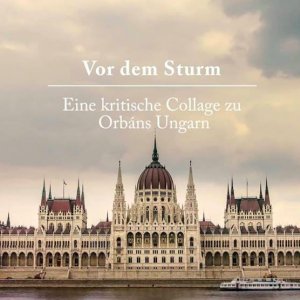 VOR DEM STURM
2018
Hungary under Viktor Orbán is considered the right-wing enfant terrible of the European Union: whether through internment camps for refugees or state citizens' polls entitled "Stop Brussels".
Orbán's rise to power in 2010 cast its shadow over these developments. With a two-thirds majority under him, the Hungarian constitution was rewritten, the public media curtailed and opened the state fight against the homeless.
In 2013, we held talks with civil society actors in Hungary, who resist Orbán's supremacy. The result is a critical collage that provides exciting insights into journalism and history, activism and social issues.
Our interlocutors include the philosopher Ágnes Heller, the historian Krisztián Ungváry, the journalist Márton Gergely and the homeless activist Jutka Lakatosné.
The film was created in cooperation with »Weiterdenken - Heinrich Böll Foundation Saxony«. He was supported by the »StuRa« and »FSR Philosophy« of the TU Dresden as well as »Domino - Jugend gestalten«.
Find more info

here
Directors:
Music & Sound Design:
Edward Sikorski

Production:

Tobias Arndt